by Meghan Moeltner posted at 3/17/21 2:49 PM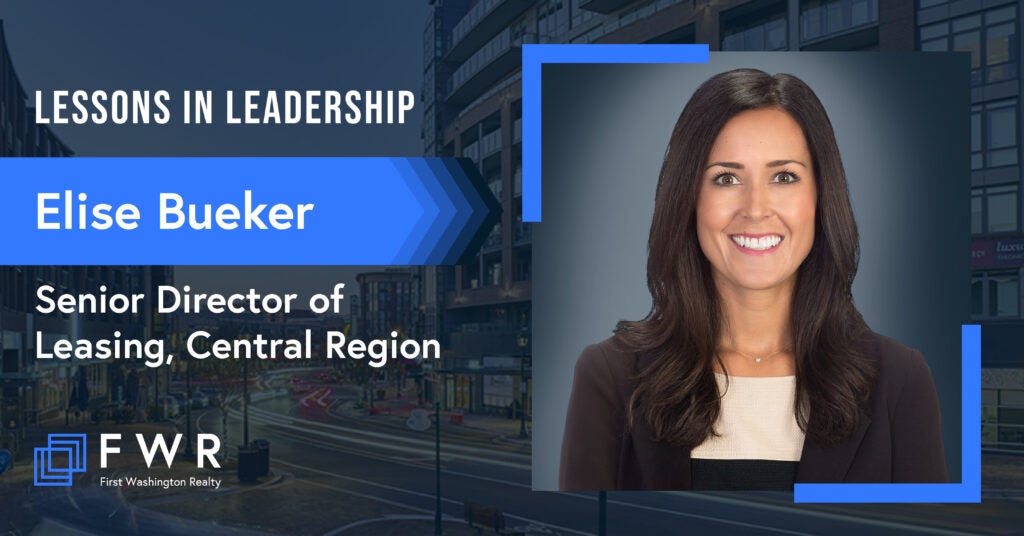 We had the pleasure of talking with our Senior Director of Leasing, Elise Bueker. She has experience in dynamic real estate markets across the U.S., with a unique specialization in deal-making and landlord representation. Elise has successfully executed hundreds of leases and overseen the leasing and marketing of several million square feet of space.
How did you first get into commercial real estate?

As I was getting ready to graduate college, I thought I wanted to go into news broadcasting. My mentor had a friend that was a large developer in Kansas City and thought it would be beneficial to talk to him about commercial real estate as his company was booming. He and I hit it off and I fell in love with the idea of leasing high-end lifestyle properties. I completely pivoted from what I thought I wanted to do and immersed myself in leasing. I started going to classes, joining associations, and learning from other leasing associates. I was knocking on lots of doors and hitting the pavement cold-calling. I had to learn by asking a LOT of questions and digging through my leasing dictionary often.
What are some of your biggest accomplishments while working at FWR?

The people at FWR have helped me grow my career and expand my real estate knowledge tremendously. I have become more involved with running various financial models and can analyze a deal more efficiently. I have also taken on a larger territory and have more autonomy to oversee those properties and third-party brokers. FWR has given me the tools and training to continue my commercial real estate knowledge. I push myself harder and continue to develop my business by constantly learning from others around me.
What are some of the most pressing issues that you think women leaders in CRE are facing today?

I feel that overall commercial real estate is a tough industry for women. It is a male-dominated business, and many times women are undermined. Women must continue to make a pathway for themselves and be their own advocates. I have always been lucky enough to be surrounded by strong women colleagues in leasing. I learned early on that you have to fight for what you feel is right and continue to educate yourself. If you demonstrate those qualities, are a strong leader and believe in yourself, you will succeed.
What is the most rewarding thing about the work that you do?

I love working with local entrepreneurs to make their dreams a reality. We have a lot of local cotenancy in our Kansas City portfolio. I have really enjoyed making relationships with owners and seeing their businesses thrive. It is rewarding to know that I have a part in helping them to create a livelihood for themselves and their families. As I grew up shopping at all of our Kansas City properties, it is an awesome feeling to know that I have added strong merchants to our merchandising mix and made a difference in the community.
Any advice for future CRE leaders?

Push the envelope and believe in what you are doing. Continue to educate yourself in the CRE industry and make strong relationships with people that can help you thrive in your career. This industry is hard work but is also very fun and super rewarding. The high that comes with making deals is worth the fight. You have to be strong in your convictions and work toward goals that make you feel happy and successful.