by Meghan Moeltner posted at 3/10/21 4:25 PM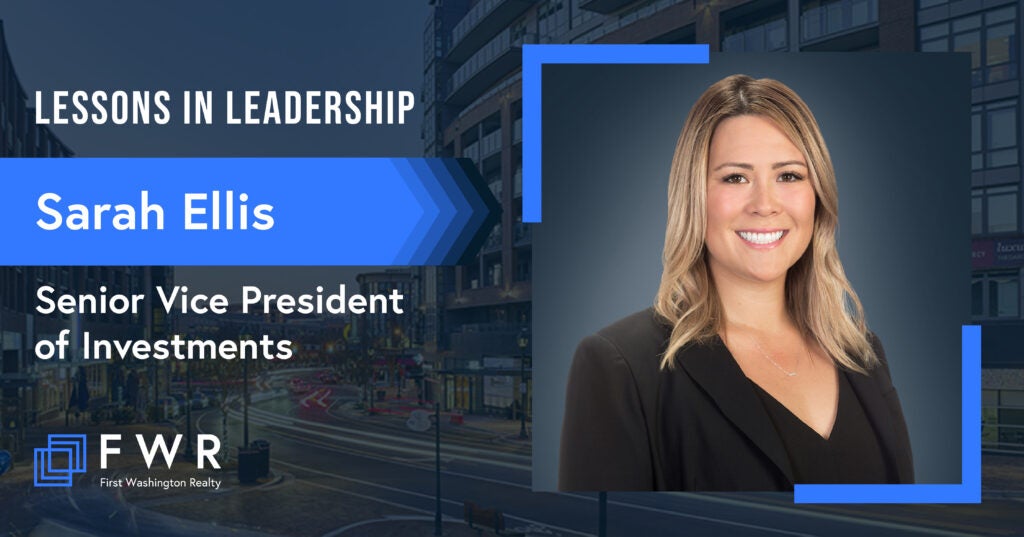 This week we had the pleasure of talking with our Senior Vice President of Investments, Sarah Ellis. Sarah has over 13 years of experience in different industries within real estate. She is responsible for sourcing, evaluating, and structuring acquisition and joint venture opportunities for FWR in the Western Region of the United States.

Prior to joining First Washington in 2017, Sarah worked for Gerrity Group and was responsible for the acquisition of 7 assets totaling over $350M dollars. Before that, she worked at Terramar Retail Centers and was responsible for the acquisition, disposition, and debt sourcing for 32 grocery-anchored retail shopping centers valued at $1.4B dollars on the West Coast.
How did you first get into commercial real estate?
I entered the commercial real estate world through the corporate finance side of the business. I started as a financial analyst where I spent long hours in Argus and Excel. It was this foundation that helped me learn the ins and outs of creating models and how to breakdown the financials of a property. I was able to capitalize this skillset to quickly understand these models, analyze the commercial real estate opportunity, and apply that knowledge to make smart investments.
What are some of your biggest accomplishments while working at FWR?
Since FWR is headquartered in Bethesda, MD, I am very proud to represent our company on the West Coast. I work out of the brand-new West Coast regional office in San Diego, CA. I have concentrated on growing our asset base of shopping centers focusing on convenience and necessity retail. It has been an important goal for me to develop relationships with colleagues and peers as well as solidify FWR's presence in the West Coast region.
What are some of the most pressing issues that you think women leaders in CRE are facing today?
As a woman in a male-dominated industry, I have found that it is important to seek mentorship in all areas of commercial real estate. I have been fortunate enough to work with many colleagues and mentors that have provided guidance, encouragement, and support throughout my career.Another pressing issue for women leaders in commercial real estate is finding work-life balance. As a working mother, it is also important to find a company that will never ask you to sacrifice your family for a career. It is possible to have both and do both well.
What is the most rewarding thing about the work you do?
It is rewarding to invest in shopping centers that focus on convenience, necessity, and experiences for the communities we serve. Whether you are popping into a grocery store to grab food for dinner, going to a Pilates class, or grabbing lunch with friends, the properties we own and operate are locations that serve the daily needs of the local people. It makes me excited and proud to know that our shopping centers are the pinnacles in the communities they serve and a place to foster business growth for our merchants.
Any advice for future CRE leaders?
If you are a woman looking to join the CRE business, do not hesitate to take the plunge. Identify your strengths and weaknesses and focus on what you do best. There is always something to learn, practice, and excel at in the commercial real estate world, especially for women looking to enter the industry. Find a mentor who will give you guidance and direction, then make a plan and execute.