by Meghan Moeltner posted at 2/15/22 2:53 PM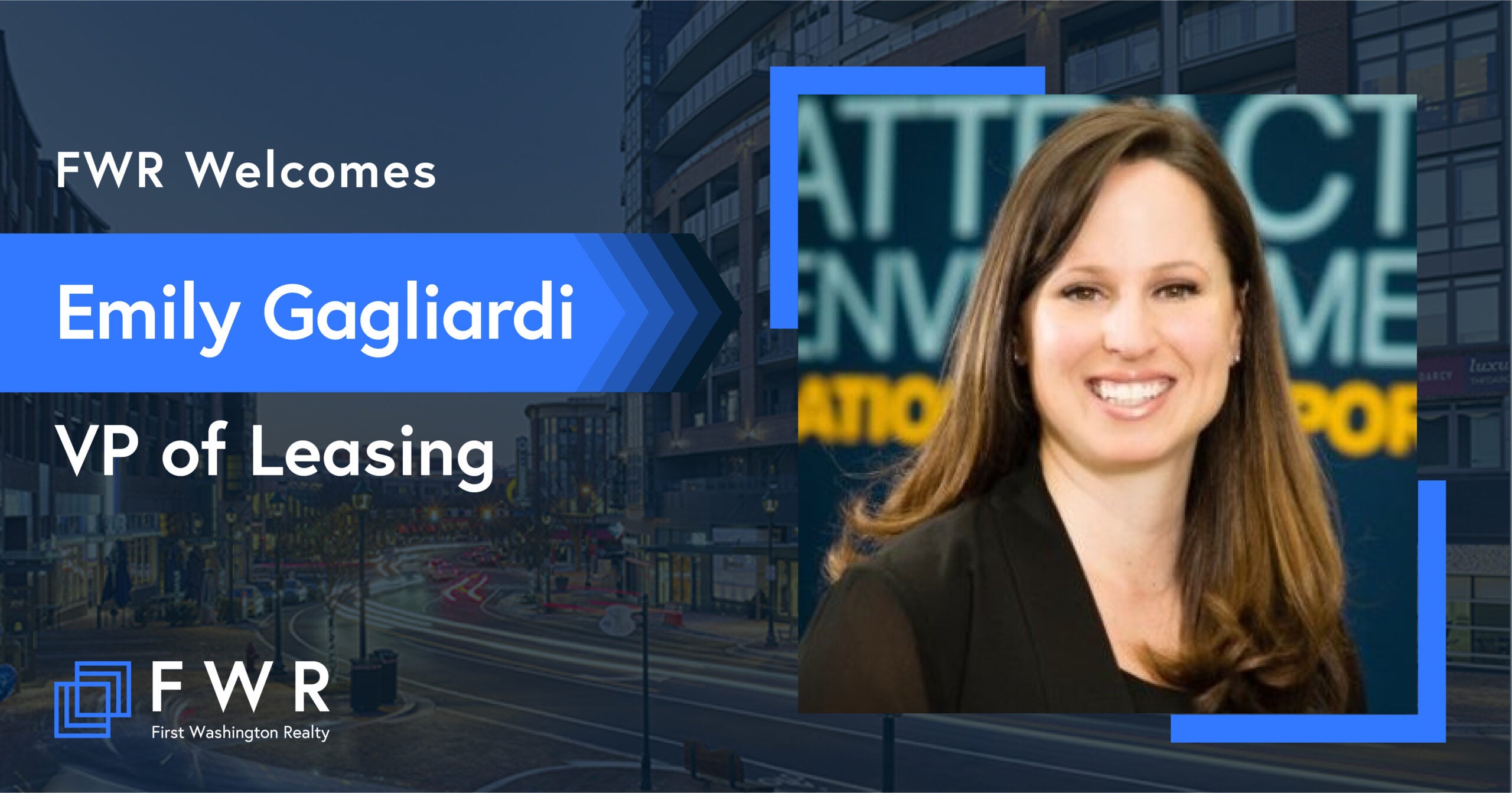 BETHESDA, MD – First Washington Realty, Inc. (FWR) announces that Emily Gagliardi will join its leadership team as Vice President of Leasing. Ms. Gagliardi will oversee the company's current leasing team and growing portfolio of neighborhood retail properties.
Ms. Gagliardi joins FWR having spent almost 20 years leasing neighborhood retail centers at Federal Realty Investment Trust, Lerner Enterprises, and EDENS. In her last role as Director of Leasing at Federal Realty, she focused on enhancing the merchandise mix at neighborhood shopping centers as well as leasing the premier mixed-use project, Pike & Rose.
"Emily is known for her strategic approach to leasing and re-envisioning of a center to drive the merchandise plan and optimize the value creation. We are thrilled to welcome Emily to our leadership team where her experience in grocery anchored centers as well as thoughtful repositioning is a great addition to the strengths of our leasing team," said Mary Rottler, Chief Operating Officer of FWR.
"I am excited to join FWR and continue the expansion of their growing portfolio," said Ms. Gagliardi. "FWR is known for having remarkable properties in some of the best locations. I look forward to being part of the team and continuing the tradition of delivering excellent performance."
Ms. Gagliardi graduated from the University of Maryland with a B.S. in Marketing. She is an active member of the Urban Land Institute Women's Leadership Initiative and the International Council of Shopping Centers (ICSC). Ms. Gagliardi will be based out of FWR's headquarters in Bethesda, MD.
First Washington Realty (FWR) is a fully integrated, national real estate investment and management firm that specializes in the ownership of essential retail real estate. FWR currently owns interests in 107 shopping centers with a value of over $5.8 billion located in 22 states and the District of Columbia. Our centers contain approximately 14.1 million square feet with approximately 2,600 tenants. The company is headquartered in Bethesda, Maryland with offices in Dallas, Kansas City, and San Diego. For more information, visit www.firstwash.com.